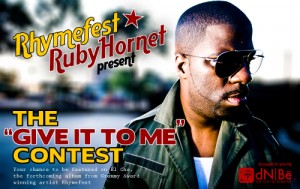 Grammy Award winning rapper, Rhymefest, is giving fans the opportunity to be featured on his highly anticipated sophomore album El Che. All unsigned emcees are encouraged to submit their hottest 16 bars to be considered for placement on the Scram Jones produced anthem "Give It To Me." Ruby Hornet, in conjunction with Rhymefest's new label home dN|Be Entertainment, will be accepting verses online beginning October 13th, 2009. Contestants will have until October 27th to submit their feature at RubyHornet.com.
With the "Give It To Me" contest, Rhymefest is giving back to the fans that have inspired him to keep making music. Not only is Rhymefest giving one undiscovered talent the opportunity to be featured on an epic album, he is also hoping to launch the career of a new dynamic voice in Hip Hop. The winning contestant will not only be featured on the digital version of the single, but will also appear in the video for the song when it debuts.
Since the debut of the Blue Collar LP in 2006, fans have been a significant motivating factor in Rhymefest's continual progression in Hip Hop. Therefore, it would only be fitting to include them on El Che. Through his partnership with new indie label dN|Be Entertainment, Rhymefest now has the freedom to work more interactively with fans. According to Rhymefest "I want to reward my fans for faithfully supporting me over the past few years. They've helped me shine so now I'm opening up the door to let them shine." El Che, featuring the street banger "Give It To Me," is slated to drop in early 2010. For more details on the "Give It To Me" contest please visit RubyHornet.com and ElCheTheMovement.com.
Rhymefest Gives You A Chance To Be on El Che from Ruby Hornet on Vimeo.