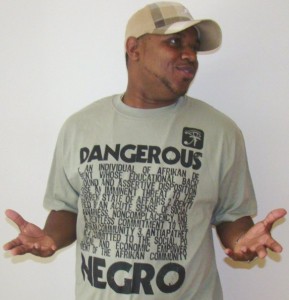 Last night I decided to take a break from writing a lecture, printing t-shirts, and coordinating superstar rap collabos.  All week long I had confined myself to my home office dungeon, only departing upon the insistence of my dreadfully bored canines.  On the verge of burnout, I knew I needed to take a break.  So when my homeboy REO The Emcee called me to hang out, I was more than ready to take a load off.  The swank bars of Rice Village would be the setting for his co-worker's birthday celebration.  With REO needing relief from the corporate plantation and me needing some fresh air and a Red Stripe, we decided to join the festivities at The Baker St Pub.  Little did we know that the night would end in frustration, disbelief, and anger over blatant racial discrimination.
The night started off well at Baker St., as I was introduced to REO's co-workers and their friends.  We all talked and laughed as we tossed back cold pitchers of fermented wheat and Patrón shots.  At our table, there was no conflict between us, as Black, White, Asian, and Indian all kicked it in harmony.  Sitting on the patio in the Texas heat, I struck up a conversation with the Filipino chick to my right.  She said her cousin (the birthday girl) was considering a trip across the street to Bronx Bar, where fresh Hip Hop was being spun all night.  After all, it was her birthday and she wanted to dance.  "The only problem is they don't like letting Black or Indian guys in there" she admitted.  "Really?  In 2009 they're still tripping like that?" I asked.  She confessed that she never had first hand experience but that was just the word on the street.  REO chimed in that he had been denied entrance on 2 prior occasions, supposedly due to dress code restrictions.  Since the birthday girl really wanted to dance and Bronx Bar was conveniently 90 feet away, another young lady with a Mariah Carey skin tone went to scout the scene.  When the attractive black/white hybrid returned, she said the bouncer guaranteed us all admittance on the condition that we were all dressed "as well" as she was.
Considering where I grew up, I was curious to see just how "Bronx" the Houston Bronx Bar was.  I could hear the DJ mixing 50 Cent, Busta Rhymes, and Big Pun from across the street.  We walked over and lined up to let the rhoided up bouncer check our IDs.  Directly behind me, REO was the last person in line until he realized he neglected to close out his tab at Baker St.  He quickly ran back across the street to retrieve his credit card.  As the bouncer granted the others acceptance into Bronx Bar, he paused holding my drivers license to confirm that I was indeed with the group.  "Yeah, those are my people," I explained "We have one more joining us in a few minutes."   He reluctantly unlatched the velvet divider and let me pass.  I waited for REO at the front of the bar to make sure he didn't have any issues gaining entrance.  Upon REO's return, the bouncer asked him to wait at the front of the line.  He waived a group of white males around him and swiftly ushered them into the establishment.  I tapped the bouncer to let him know that REO was with our group and he just mumbled "Hold on, I'm doing my job."  10 more minutes pass and the bouncer has already allowed several groups of Caucasian revelers to skip my friend in line.  Observing that the Houston police officers next to the bouncer were itching for an excuse to put their hands on a Negro, I grabbed the birthday girl and let her explain to the bouncer that REO was indeed with the group. Once again, the ogre mumbles "Hold on, I'm just doing my job."  Two more white males show up and he promptly checks their under-21 IDs and lets them in.  That was the last straw.  Bronx Bar was actively administering the 12 percent rule, (coined by my dude Field Negro), by making sure the Black population inside the club did not meet or exceed the current proportion of Blacks to Whites in the United States.  I unhooked the velvet rope and proceeded to my car with an irate REO.
While REO was angry, I could not muster the energy to lash out at the ignorance I witnessed.  Maliciously reacting to the situation would have resolved nothing, and most likely would have resulted in us being tazered, shot, or arrested.  It doesn't matter if the President is Black or my money is green, White supremacist ideology still lingers in pockets of this country like syphilis.  Just when you start to believe it's gone, it burns you like a hot comb on a nappy kitchen.  Don't allow yourself to believe that Barack Obama's election has eliminated racism.  This is something that every man, woman, and child has to be committed to eradicating.  Therefore, if YOU truly want to end racism you have to start identifying those individuals that continue to spread the germ.  Call them out.  Hit them in their pockets.  Boycott their establishments.  To the owners of The Bronx Bar, we'll see how you react when the Houston Chronicle and local television run this story.  REO would like to share the inside scoop with the world (filmed directly after the incident):