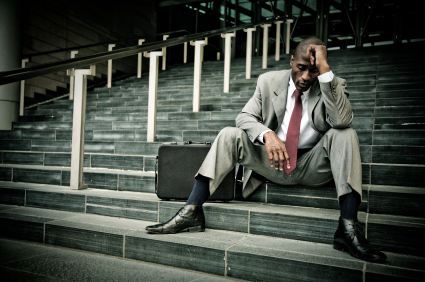 Today's question comes from Jetaime Celestin on our facebook page:  How do we approach resolving black unemployment?
Great question, and this is actually my area of expertise, so this response might be a bit long.
First, a few good books that I've read that deal with this subject and Black economics in general are Blueprint for Black Power, PowerNomics, and Black Economics (all available on our reading list store).  I've also just ordered The Black-Print by Malik Green, but I haven't read it yet.
At a high level, I think the best way to get your mind right to even begin thinking about solving the black unemployment crisis is to view Black America as a separate nation.  I'm not saying we actually split off and form our own country (I'm not not saying that either), but just imagine that we have, and let's call this new country…I don't know, say….Liberia.  By viewing us as a separate nation then you can look at past examples of what other countries in dire economic times have done to turn things around.  But in order for this to work, only people that are loyal to the Black/African community should be considered a part of the community.
Skin color does not qualify a person as a member of the community or citizen of our hypothetical country (Exhibit A: Juan Williams).  In fact, treasonous Black folk that "make it" on the backs of their people and then show no reciprocity, love, or loyalty (which would be many Black celebrities and entertainers) should be banished from the country and we should not financially support anything they do.  Some might call this divisive…those people would be right.  Some things should be divided so others can unite.
Back to the subject at hand, the first thing you do is increase savings, reduce personal borrowing (as opposed to business-related borrowing used to increase the productive capacity of the economy) and reduce consumption of imported goods into the country.  There are various way of doing this, but the most effective method of increasing savings and reducing consumption is to make it a part of the culture and social norms of the community through education and social reinforcement mechanisms (e.g. foreign luxury brands must be made uncool somehow).
By importing less, people in the country spend more on goods/services produced within their own country.  For goods/services that aren't currently being produced domestically, the increased savings can be used to invest in companies that can produce them.  Bottom line: we need to save more money, reduce spending with companies that we don't own, and invest in companies that we do own.  It also helps if we have our own banking and monetary system that we control, but that is another long discussion altogether.
At the community level, we need to start taking control of the businesses in our predominately Black communities.  You don't go to Chinatown and see Black-owned stores, but you go to a Black community and see every race but Black people owning a majority of the shops.  I'm not making a value judgement whether that is right or wrong, it is what it is, and it produces a certain result in that community.  It would be nice if we could all just get along and eliminate discrimination, but that's not the case, and we can't control how people treat us, but we can control how we perceive and respond to that treatment.  Continuing to buy from businesses that those people own is not the correct response if you are concerned with Black employment.  If you want to increase Black employment you need to increase the number and size of Black-owned businesses because those businesses are significantly more likely to hire Black people, so $1 spent at a Black-owned business increase Black employment more than $1 spent elsewhere.   But how do you support Black-owned businesses if there aren't enough to support?  First, support the ones that do exist (Ujamaa Deals can help with that), and second invest in the creation of more of them (through the increased savings discussed above).
One of the few good results of forced integration was the increase of knowledge and skills within the Black community.  We've spent the last half-century working for white folks and learning everything they know plus some and with more creativity.  Now, we need to go community by community and strategically boycott businesses one at a time.  I'm not talking about the old school boycotts where we announce it to the world and march, protest, and engage in other useless activities.  I'm talking about everyone in the community getting together and picking out the businesses that we should own (banks/credit unions, convenience stores, grocery stores, restaurants, warehouses, clothing stores, entertainment, etc.).
Next, you stop supporting those businesses on that list that are not Black-owned one by one.  Then as those stores begin to go out of business, the community pools together investment dollars and takes them over as the previous owners are forced to sell or go bankrupt.  As the new owners, we can hire whoever we want, starting with our own people in the community.  We know how to do the necessary jobs because we've been doing them for other people for years.  What we don't know, we can learn.
Also, there must be an understanding that there will be no theft, vandalism, or any other crimes committed against these businesses that we own in our communities by any member of the community.  Business that we don't own will not be intentionally harassed (at least not officially), but they will also not receive any protection, thus increasing their insurance costs and making it harder for them to compete.  Anyone who violates this rule and brings harm to any person or protected business in the community will be dealt with by the community with as little involvement as possible from any law enforcement agency that has not proven it has the best interests of the community in mind.
The community will also have a sort-of neighborhood watch/patrol (no Zimmerman) to look out for outsiders (racists, police, etc.) that come in and mean to do us harm.  So probably one of the first Black-owned businesses that we set up in the community will be a private security company that will protect the people, residences, and businesses of the community,  while employing some of these strong Black men that are out on these street corners (after re-education and training of course).
Basically, we have to go community by community and make a decision to become self sufficient and be owners, not just employees.  We can't be worried about being called reverse racists or anything else that racists and misguided House Negroes call us when we look out for ourselves.  We also can't be guided by anger and emotion-drive reactions.  We have to be strategic, methodical, and visionary.
When we become owners in our communities, we control employment in our communities.  Any solution that relies solely on government support or donations will most likely fail, so we have to take control of our own economic situation.  Then as we gain more economic power, we will gain political influence in our communities and actually have politicians and government institutions that work for the people instead of against the people.   Anything else will be unacceptable.
What solutions can you think of at the community level that we can start working on immediately?