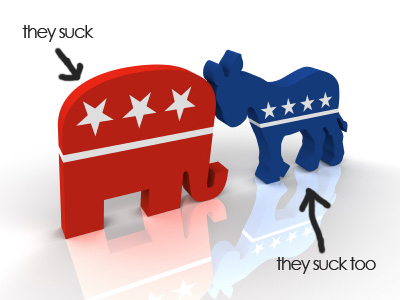 I think Black people vote straight Democrat for two main reasons: 1) Ignorance and 2) They think Democrats suck but are better than Republicans.  A Bush, McCain, or Romney presidency scares the shit out of us for some reason.  All the crap we've been through in this country, and we straight b**** up when it comes to the thought of a Republican being President….like that's the worst thing that could happen to us.
This is why the GOP doesn't scare me:
There is no fundamental difference between the Democrats and Republicans when it comes to their treatment of Black folks…or really on their treatment of anyone.  We're SOL with either of them (regardless of the race of the politicians in question).  Both are parties primarily serve the interests of white elites, then everyone else gets to fight over what's left.  They differ only on superficial tactics, not fundamental world views, no matter what they say.  Watch what they do…that will tell you what they believe more than any campaign speeches.
If Black people don't vote Democrat for just one major Presidential election, the Democrats will no longer be able to take our vote for granted and they might actually start paying attention to us….as will all the other parties when they see that we're not irrationally loyal to the Democratic Party any more.  The symbol of electing a Black President was a powerful statement.  Electing one a second time really isn't that big of a deal, especially if it's the same one and seeing that it hasn't meant much for the Black community anyway.  Now the powerful statement would be for Black people to completely withdraw our support from the Democrats even with a Black President.  We'll send the message that just because you put a token Black face up there in front of us, we're not buying it and we're not stupid.  You still have to work for our votes, and if you don't, we'll take them elsewhere.
Let's live in this make-believe world where the GOP really is the right arm of the devil and if a Republican is elected president it would be the worst possible scenario for Black people.  Have you ever noticed that Black people only make a lot of progress when we're fighting a clear enemy or for a clear cause (slavery, right to vote, integration, Troy Davis, etc.)?  But the crisis has to be drastic and acute…if it slowly builds up over time and is not overt, it's hard for us to organize around it. It's bad right now for us, but apparently it's not bad enough.  So maybe a GOP prez would make it so bad that we would get shocked out of our current complacency.
I don't know.  I just feel like Black people are our own worst enemy and I get frustrated.  What do you think about the possibility of getting Blacks to withdraw their undying loyalty for the Democrats and supporting candidates that actually give a damn?